Proposé par l'IPA Autriche.

International Police Association Sektion Österreich
IPA Hiking week on the Nassfeld 2022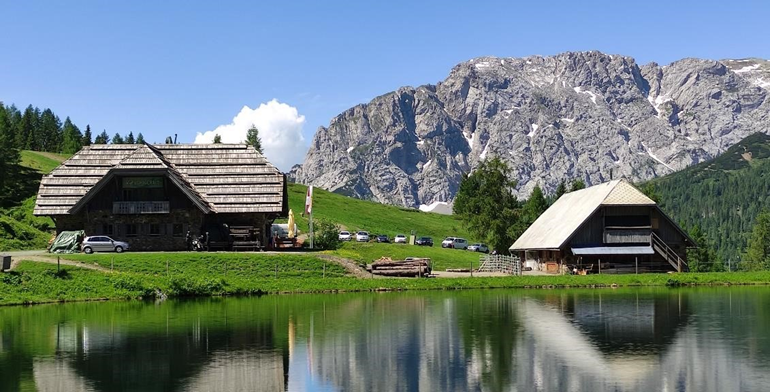 The Hotel Gartnerkofel – Family Waldner and the IPA –Vbst. Upper Carinthia invite to a hiking vacation for IPA members
19th June till 26th June 2022
Programm
Arrival, room allocation, dinner, after dinner 1 glass of Prosecco as a welcome drink in the hall with program explanation from the host Martin Waldner and Ewald Grollitsch.
Garnitzenklamm
1. Garnitzenklamm via Urbani Church to Möderndorf
2. Hike through the Garnitzenklamm and back to Nassfeld
3. Hike from the Nassfeld to the Egger Alm culinary experience! In the evening: Performance of a Schuhplattler group
Picnic at the Winkelalm with
3 guided hikes a highlight of every week as well as a
Spilimbergo – Mosaic and wine cellar
Day trip to the world famous mosaic school of
Spilimbergo. Visit of a wine cellar with tasting
Drive up to the Radniger Alm. Hike to the Golz or Spitzegel. In the evening we swing the dancing leg
Hikes in the area of Nassfeld or a trip into the blue
Lunch at the hotel Today we make ourselves a comfortable day with a lunch stop directly at the hotel. On the sun terrace we enjoy a suckling pig meal.
Departure with joy for a reunion
Wulfenia and alpine rose bloom in June

---
Price: € 815,00/Week
Citytax (€ 2,60/Person/Day)
Included services:
7 days full board
All guided hike according to the program
Nassfeld +Card including the use of the cable cars
Program changes reserved!
Food included:
rich breakfast buffet that leaves nothing to be desired – with vitality corner, fresh fruit, a surprise treat every day, etc.
Cold and warm lunch and afternoon buffet from 12:30 p.m. to 4:30 p.m.
Cake buffet from 02:30 p.m. to 4:30 p.m.
5-course evening menu (choice of 3 main dishes, including 1 vegetarian dish from our natural kitchen) with varied appetizer buffet, theme evenings such as Carinthian farmer's buffet, Italian specialty evening, …
Drinking included:
Freshly chilled spring water (sparkling or still) is always available to our guests at the hotel fountain.
All non-alcoholic beverages are available at the beverage bar around the clock
Coffee and tea specialties around the clock
Lots of relaxation and wellness for adults on 1300m²
Crystal SPA only for adults with indoor adventure pool, caldarium, infrared cabin, steam bath, herbal room, rock sauna, AURA sauna and hunter sauna
Energy Island: light and aromatherapy on heated quartz sand
Fitness room with Techno Gym equipment
Massages and cosmetic treatments in the wellness oasis
Registration and information
**** Hotel Gartnerkofel, Fam. Waldner, Sonnenalpe Nassfeld 18, A-9620 Hermagor
Tel.Nr.: +43 4285 8175 | www.gartnerkofel.at | info@gartnerkofel.at
---
Information:
IPA Oberkärnten, Ewald Grollitsch, Radnig 59,
9620 Hermagor, Mobil: +43 6504001386
E-Mail: ewald.grollitsch@ipa.at
Registration
for the IPA – hiking week on Nassfeld 2022
…………………………………………… …………………………………………………
Sender Place, Date
Hotel Gartnerkofel
Fam Waldner
Sonnenalpe Nassfeld 18
9620 Hermagor
Österreich
R e g i s t r a t i o n
for the IPA – hiking week from 19th June till 26th June 2022
Surname: ……………………………… name: ……………………………………
Residence: ……………………………………………………………………………………………………………
Tel.: …………………………… IPA-VB-St.: ……………………………………
Person travelling with you
………………………………………………………………………………………………………………………………………
………………………………………………………………………………………………………………………………………
Singleroom
Doubleroom
Multi-bedroom
E-Mail: info@gartnerkofel.at
………………………………………………………………………..
signature